Why You Should Stop Optimizing For Keywords
What is the future of Google Query-Less Results? Will Keywords Matter To SEO? Are they going to outlive their relevance?
How would life have been without a search engine that knows exactly what it's doing and how much better to do it in the future? Sometimes I think about the days of older search engines like AltaVista, these search engines just dump random pages for you on any query you type into the search bar.
Soon, Google came into the picture and made everything right. Fast and Adless! But a lot has happened in the past twenty years and a lot more will definitely be happening. Starting today, Google is changing search for the next twenty years.
Google's Future of Search Event
Recently, Google organized a small event to mark its 20th anniversary and it took the chance to give us a certain view of what SEO is going to be like in years to come.
Google introduced three changes to how it will see search queries in the future.
– Search is not going to be about answers anymore but journeys
– Search is going to be moving from results through queries to 'query-less' results 
– Search is gradually going from text to more visual ways of finding information
I will expand on this below
From answers to journeys
The biggest challenges search engines had to solve was trying to find out what a user really wanted when he/she entered a specific query.
Search intent became some sort of "thing" that everyone was trying to get to first to properly answer the user's questions.
In our time, we know the different types of things a user can search for, and we know there are several stages leading to that process. Even after matching your keywords and content to that intent, it takes a lot of time before it fits to answer the user's question.
That little journey is what will become the main point of focus for Google's future of search.
Very soon as a user, Google will know where you are in this journey, always remember what you did, and where you are most likely to go next. Eventually, Google wants you to discover more and more content – even without you asking for it!
Very soon, Google will provide you exactly what you are looking for, instead of just giving you suggestions of pages to "try" and visit. And this will not happen by your target of specific keywords.
AI-driven search – Query-less Results
Google uses Artificial Intelligence (AI) to understand languages and will use that knowledge to power new types of search.
I always emphasize content as one of the most important terms in SEO. Now here is Google telling us that it is all about what goes on around the terms you use in your content.
I noticed recently, that Google has been using AI to connect words to concepts – instead of connecting words to queries. A mentor of mine calls it Super Synonyms.
Google Search Liaison, Danny Sullivan also confirmed this.
Ben Gomes, Google's VP, Search, News , nd Assistant, explains this technique called neural matching:
"We've now reached the point where neural networks can help us take a major leap forward from understanding words to understanding concepts. Neural embeddings, an approach developed in the field of neural networks, allow us to transform words to fuzzier representations of the underlying concepts, and then match the concepts in the query with the concepts in the document. We call this technique neural matching. This can enable us to address queries like: "why does my TV look strange?" to surface the most relevant results for that question, even if the exact words aren't contained in the page. (By the way, it turns out the reason is called the soap opera effect)."
So, this tells you that very soon, your website will show up in search results even without mentioning or optimizing for a keyword – by simply providing information related to that particular topic, Google can match that to the user's query. Super relieving right?
How is Google going to do this – Exactly
To make these connections possible, Google introduced the Knowledge Graph a few years ago. This Knowledge Graph broadly examines and understands the connections between entities – for an example, people, places, things and information about them.
But something was missing.
The Knowledge Graph failed to understand how these connections evolve over time and the behavioral change that occurs as a user gets to know more about the topic he/she is actually interested in.
So, Google on the quest to fix this added something called the "New Topic Layer"
To make all these connections, Google introduced the Knowledge Graph years ago. The Knowledge Graph explores and understands connections between entities — i.e. people, places, things and facts about them. What it missed, was something that understands how these connections grow over time and change as people get to know more about the topic they're interested in. That's what they're adding today in the form of the new Topic Layer.
Nick Fox, Google's Vice President of Product & Design, Search and Assistant:
"The Topic Layer is built by analyzing all the content that exists on the web for a given topic and develops hundreds and thousands of subtopics. For these subtopics, we can identify the most relevant articles and videos—the ones that have shown themselves to be evergreen and continually useful, as well as fresh content on the topic. We then look at patterns to understand how these subtopics relate to each other, so we can more intelligently surface the type of content you might want to explore next."
Activity, Collection, and Discover
Activity
Google's new AI drives the new ways of sourcing, collecting and providing search results. One of these features launched yesterday – The Activity Tab.
This feature helps you retrace your steps as you search. It shows you the websites you have visited recently through a particular session.
This tab appears to you only and will be visible on searches where it makes sense. It's also deletable anyways. That helps Google measure the irrelevance and show you better results next time.
Collection
Another way to keep track of what you are doing is by using the newly introduced Collections tab. This tab allows you collect searches from your Activity cards in groups so you can use them at a later date.
And of course, you'll also get content suggestions to deepen your subject/search etc.
Discover
Another way Artificial Intelligence will drive traffic is Google's news feed on mobile — renamed Discover.
It has proven to be a source of traffic for many sites. It now has over 800 million users and has sent 2.5 times more traffic to publishers over the last year. The feed will also use the newly introduced Topic Layer to uncover new articles relevant to the interests of the user.
It suggests content without intent: the user might not even know he or she wanted to read this, but actually needed it. The more you use it, the more it knows what you like. It even changes content based on the intent you show in search.
From Text to Visual
Apart from Google, Microsoft and Pinterest have also gotten involved in the visual style of search over the past few years.
Earlier, Google also launched the new Lens App. This app is AI-powered and can analyze text in photos, as well as show you lookalikes of items in the photos.
Desktop search will also get a Lens feature as well, so you can analyze the contents of any picture and continue your search on that.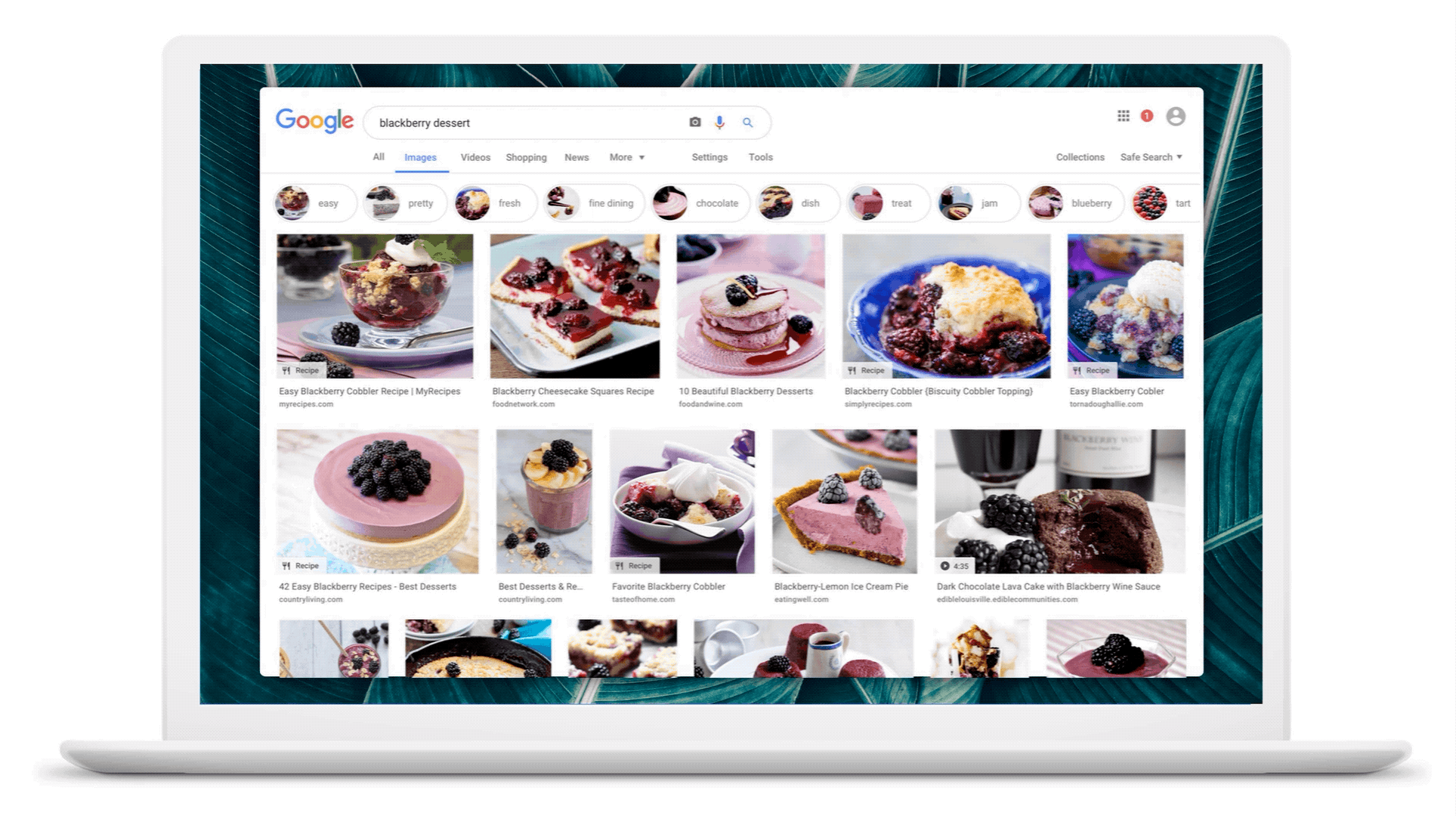 The last piece in the visual search puzzle is the launch of AI-rendered, AMP-powered Stories in the search results. Whether you love it or hate it, Google continues to push AMP. This time, we get AMP Stories in search. Stories are a concept done to death by other companies, like Facebook and Instagram, but Google wants to get publishers to adopt the story format as well. It won't be long before this will be ad-supported of course.
Conclusion
It might look as if search hasn't changed over the last twenty years. It still all comes down to entering a search term into a search box on a white page, press enter and get immediate results.
But how these results are generated has always been a work in progress.
The way the results are filtered, selected and sorted are forever in the control of ever-changing algorithms.
Google is looking for more ways to get people inside results and keep them there. Google wants more control over how people interact with the search engine and its results.
Read Google's blog posts about these changes: