How To Customize Your WordPress Dashboard
It's no doubt that a personalized and fully customized WordPress dashboard will help you get the most from your WordPress website. In this article, I will show you how to do it with Elementor Page Builder and a free add-on.
Table of Contents:
————————-
Introduction
For anyone who uses WordPress a great deal of the time, you will definitely be familiar with how stuff works in there. So, I might want to ask you how a customized dashboard will make things easier for you. Well, it might and it might not make a difference.
But what if you had a client who wanted a website and you had to use WordPress? You know they'd find it hard to go around their admin area right? Then you should know this.
Give them a good reason to recommend you to their other friends 🙂
To help you or your client get the most from their websites, as well as add a touch of difference to your delivery, you can easily create a custom WordPress dashboard for them.
Why You Should Create A Custom Dashboard For Your Clients.
Like I said, creating a customized WordPress dashboard helps you, and as well helps you better if you have a client you had to deliver to.
You can create a custom dashboard for your client to make important features and options easily available to you or your client.
You can use your custom dashboard to display:
A welcome message to your client.

Helpful Instructions & How-Tos

Answers to common questions

A contact form

News, like updating your clients on some updates or information about how they should manage their website.
With some key things like those above, you will be able to create a more user-friendly experience that will help navigation of relevant areas of the dashboard easy for your client.
Now, that's for your client. How does it benefit you?
Here's how it benefits you:
Adding those key features and making them available to your client, you can save yourself a lot of time and stress from having to answer emails or phone calls from several clients on how to use their website. Doing that, you have killed multiple birds with a stone.
Now, how do you do create a customized WordPress admin dashboard?
That leads us to the next section. The one we have been waiting for 🙂
How To Create A Custom WordPress Dashboard With Elementor.
Now, this is really easy. You don't need to learn any special skills. Everything will be based on the existing skill you have using the same Elementor Interface. You will be familiar with that, and if not, take a quick tour on how to use the Elementor Page Builder.
To get started, all you need is the free Dashboard Welcome for Elementor plugin from IdeaBox Creations, the same team behind PowerPack for Elementor.
The awesome feature about this plugin is that you can create different WordPress dashboards for several user roles. What do I mean? You can create a special dashboard that will show to your clients only, then another to display to store managers or content editors only.
Here is the step-by-step guide on how to get started. All you need right now is the Dashboard Welcome for Elementor plugin installed and activated. You also need to have Elementor installed and activated as well.
Step 1: Create A New Elementor Template
Step 2: Change Template Type To "Elementor Canvas Template"
Step 3: Design Your Customized WordPress Dashboard
Step 4: Enable Elementor Template as Custom WordPress Dashboard
Step 1: Create A New Elementor Template
Create a fresh Elementor Template by locating Elementor → My Templates → Add New in your WordPress dashboard: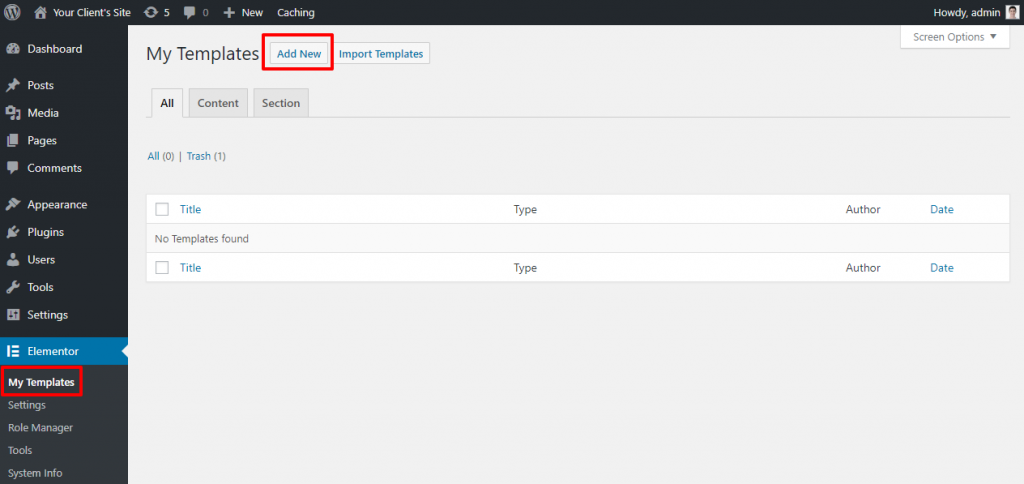 On the New Template page, select Page from the drop-down and then give your new elementor template a name. You can use "Client Dashboard" if you are creating one for a client. The name isn't really important. Just make it easy to remember for easy accessibility.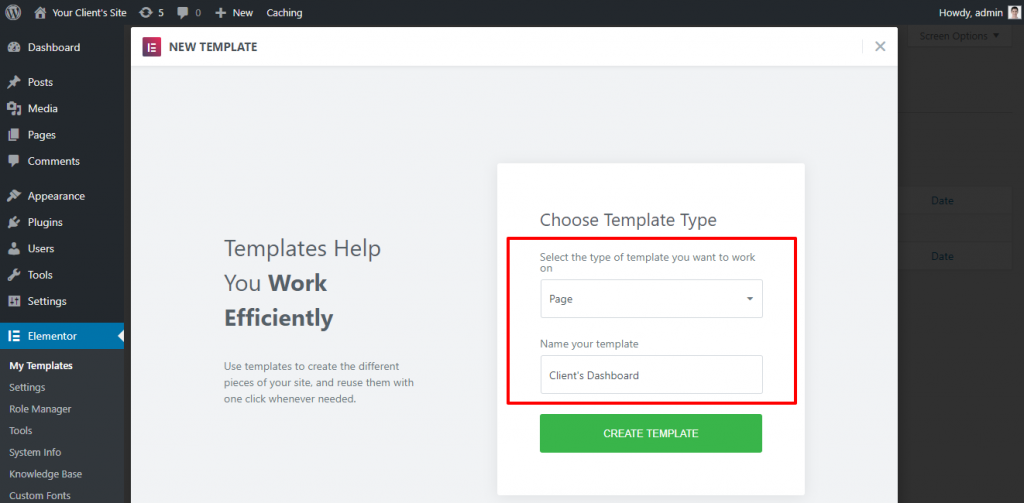 Click on the Create Template button to continue.
Featured Article:
Step 2: Change Template Type To "Elementor Canvas Template"
It's important to do this as it creates a blank canvas to apply all your Elementor styling. If you don't, you most likely will be seeing your theme's header, footer and sidebar appearing inside the WordPress dashboard and that's not right.
To implement this, choose the Elementor Canvas template by clicking the gear icon in the bottom-left corner of the Elementor interface and then select Elementor Canvas from the Page Layout drop-down: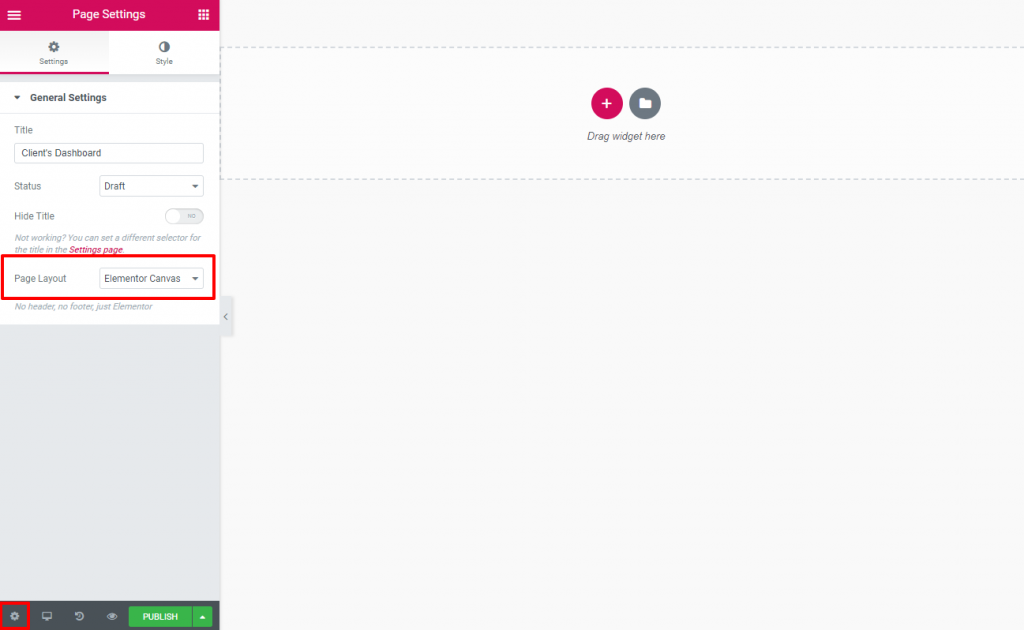 Step 3: Design Your Customized WordPress Dashboard
So here comes the fun part. Designing the customized WordPress dashboard.
Here are some rules you might need to follow before proceeding to design the customized WordPress Dashboard.
Use 2-3 columns in most places

. The normal WordPress dashboard uses 2-3 columns for most screen resolutions, so this way your customized dashboard will fit right into the existing design.
Avoid bold and loud backgrounds

. While a mild touch of color here and there is fine, using lots of bold colors will interfere with the rest of the WordPress dashboard. This can greatly affect your client's experience. You don't want your customized WordPress dashboard looking like a clown.
Remember to always use white space

. The default WordPress dashboard usually includes plenty of white space, especially on larger screen resolutions. Try to keep that feature in your custom WordPress dashboard design.
Here's an example of how you might want to do it: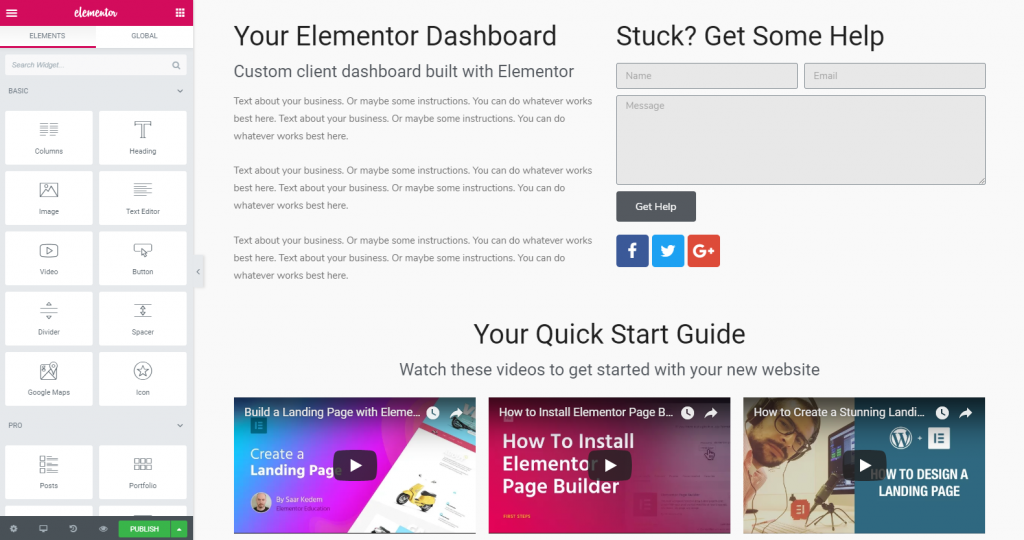 This example includes:
A welcome message with basic instructions to your client on the left

A working contact form on the right, along with some social icons which your client can use to contact you easily.

Three playable youtube videos, which your clients can use to access easy tutorials.
Once you're content with how your Customized WordPress dashboard looks, go ahead and Publish it by clicking the green Publish button on the bottom left area of the screen.
Step 4: Enable Elementor Template as Custom WordPress Dashboard
You have a fully customized WordPress dashboard, now it's time to make it display to your clients.
All you have to do is go back to your WordPress dashboard, then head for Settings → Dashboard Welcome Elementor.
For the user roles that you want to target, use the Select Template drop-down to choose the template that you created recently. For example, if you're planning to show your client the dashboard created for an Administrator account, you'd select that role: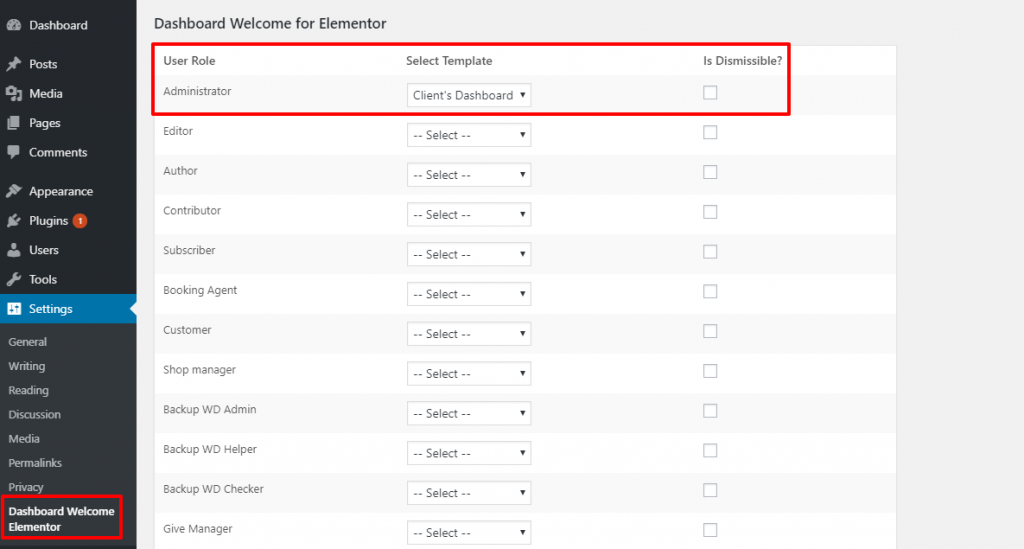 Once you're finished, make sure to click Save Changes at the bottom.
Now, when your client logs in the main WordPress Dashboard, they'll see your custom dashboard at the top (the other WordPress dashboard widgets are still there – they're just pushed down the screen):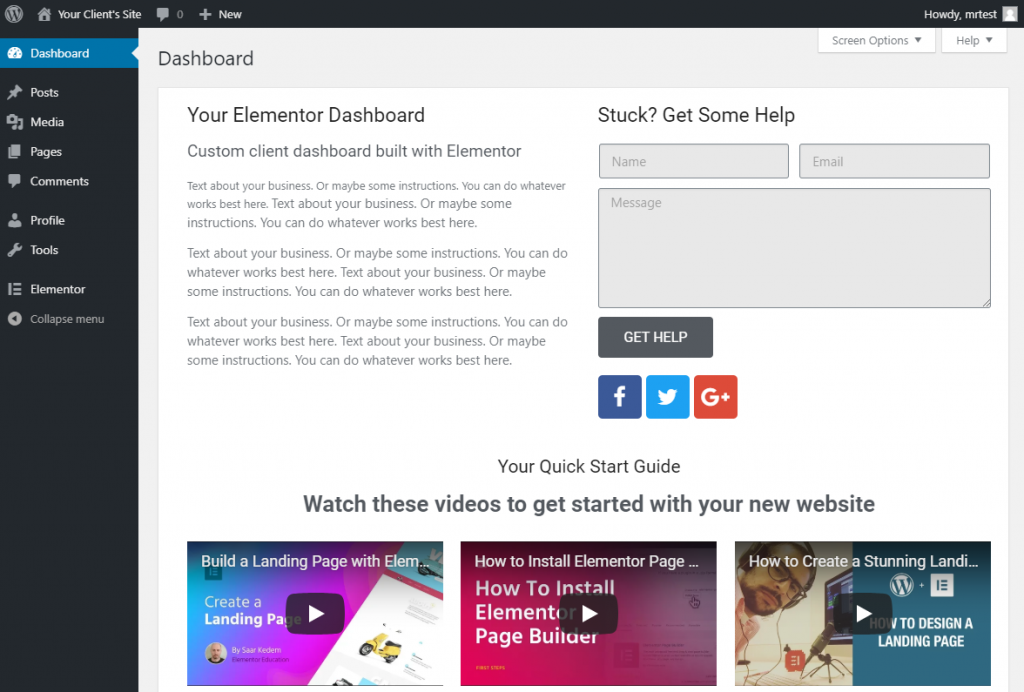 Building a customized WordPress dashboard for your client is one of those things that doesn't require a lot of time nor expertise, but offers a big payoff in terms of personalization and usability.
Thanks to the free plugin: Dashboard Welcome for Elementor.
Remember, creating a customized WordPress dashboard is as simple as:
Designing a template using the regular Elementor interface

Assigning that template to the 

user role(s)

 for your client's WordPress account
Try customizing your WordPress Admin Dashboard today and I bet that your clients will love it!
Also Read: