Instagram is all about pictures and visuals, about every user knows this but without a caption which makes your followers stop in their scrolling tracks, your post won't get maximum engagement.
A lot of people say likes don't matter but you actually need them because the more likes and comments you have, the more visible your posts will be to followers which in turn offers engagement. After reading this guide, you will be able to properly analyze your post captions before publishing any post on Instagram.
Here is how to write scroll-stopping Instagram captions:
Be Brief

Captions should be short and straight to the point. Even with the 2,200 character limit, your audience will still need to click "more" to view anything after the first 125 characters. Make those first three to four lines count. Post hashtags, mentions, and any extra information for the end. Look at a sample from Nike.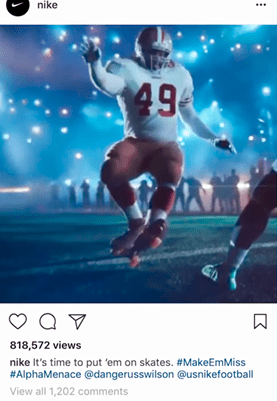 Remember being brief is not compulsory. Sometimes you have a story so great, you need a long caption to do it justice.
Use Line Breaks
Make your caption clear and easy-to-read by using line breaks. A tool that can make this easy to work with is @postmote.ng. PostMote is an Instagram scheduling tool developed by my team. You should check it out.
Avoid Hard Sell
Avoid getting too promotional with your products. Adopt a light-hearted and interactive tone on Instagram. Be clever, be fun, be engaging and get silly sometimes. It works.
Use Emoji's
Want to look fun and add some personality to your caption? Use emojis! One emoji speaks a thousand words.
Use Relevant Hashtags
Instagram did not give you the 30 hashtag limit to call you spam. They are saying you can use all. Forget all those rumors and go your maximum. Using all 30 hashtag slots actually helps your content get found. As long as you are posting quality and unique content, you are not spamming.
Include Call To Actions (CTA)
A Call To Action tells your followers what to do. That is the main driver for engagement! Your followers won't engage if they don't know what to do. You have to tell them to either Order, Double Tap, Comment, Click Your Bio-Link or do something native to the platform.
Proof Read
Check your captions for grammatical errors before publishing. That error you feel is negligible may be a total turn off to someone else. Before you upload your next Instagram-worthy image, spend a few minutes writing and revising a compelling caption. Your followers will be sure to reward you with likes and comments.